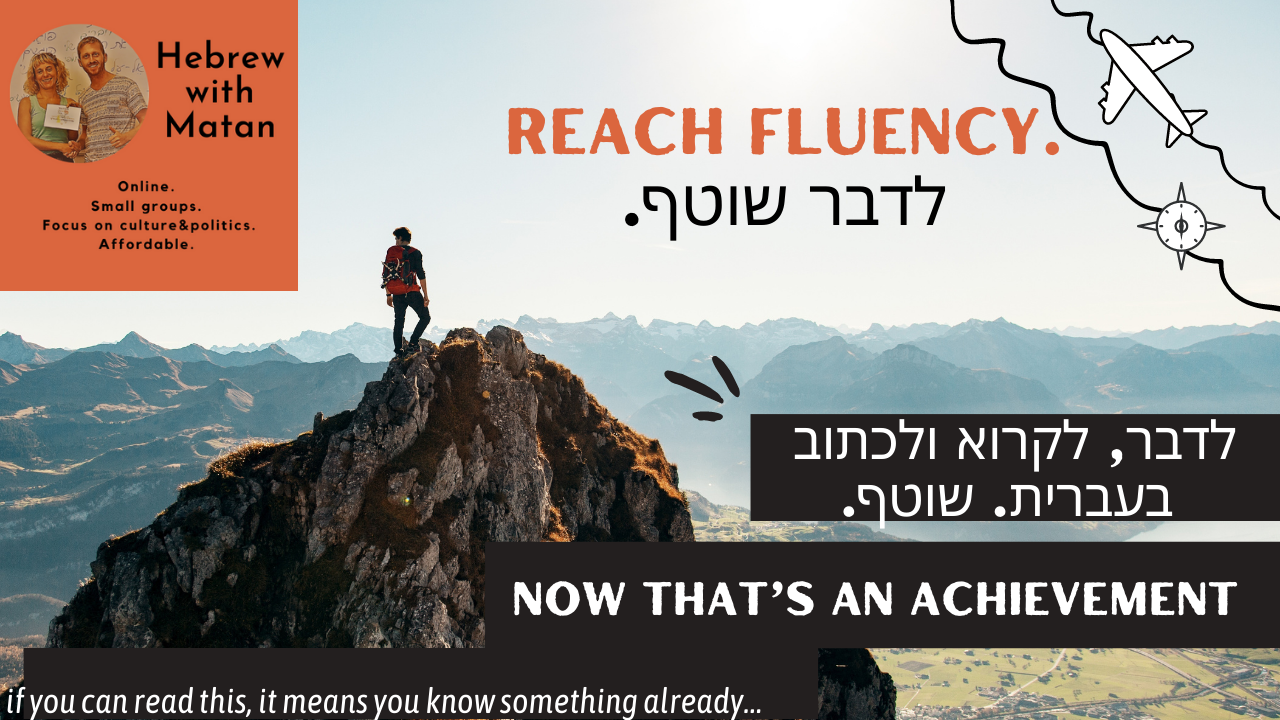 Check out the coming courses starting on 17th

APRIL 2023

below!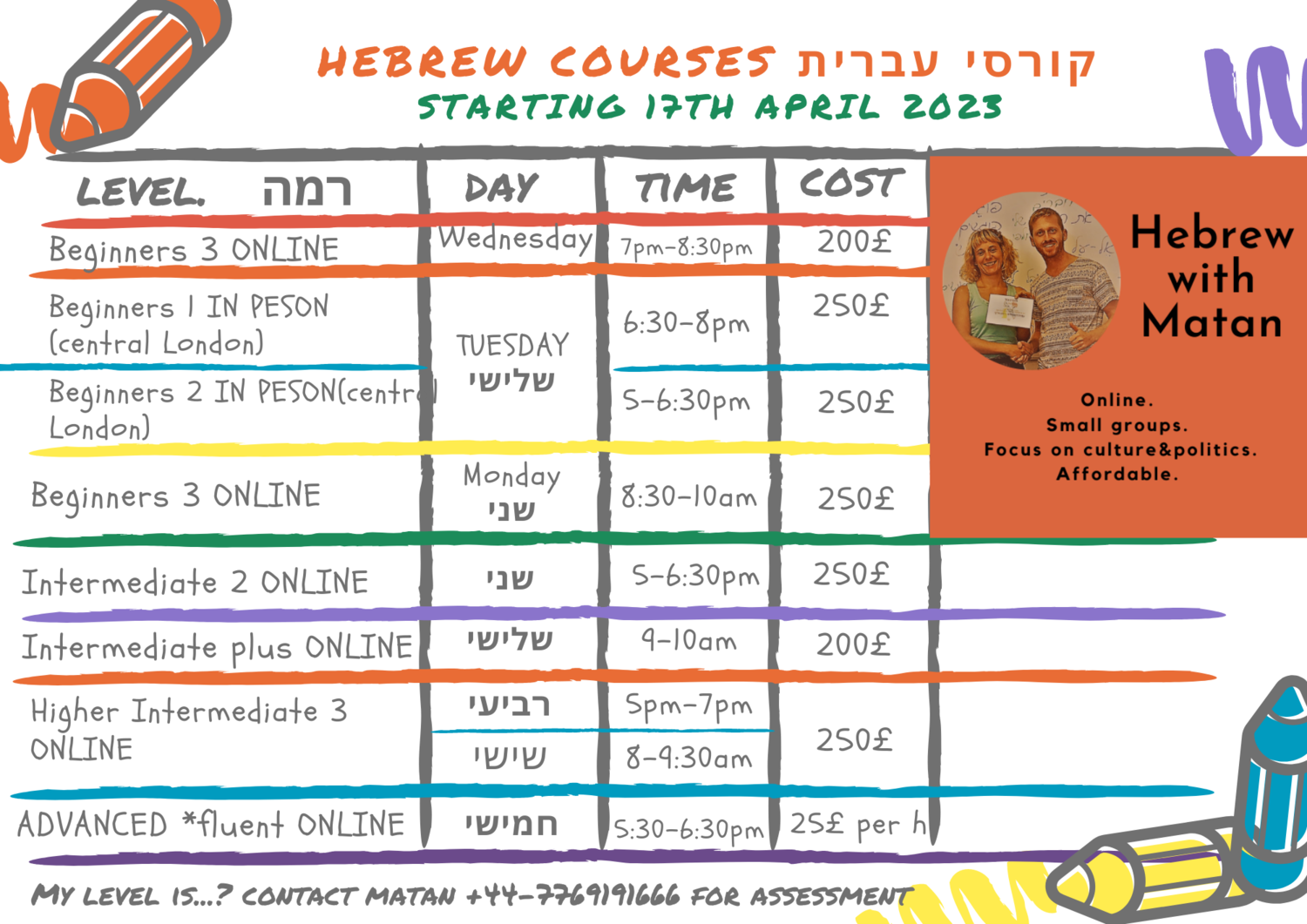 When you learn Hebrew with Matan you will not only SPEAK, READ AND WRITE in Hebrew, but also SING beatiful Israeli songs we learn and sing with my guitar!
התלמידים שלי לומדים לא רק לדבר, לקרוא ולכתוב בעברית, אלא גם לשיר שירים ישראלים יפים, שאנחנו שרים עם הגיטרה שלי!
SING IN HEBREW with Matan
Processing video...
My name is Matan and I'm an Israeli Hebrew teacher with year of experience, and a peace activist.
Focus on Culture and Politics
I teach in a variety of methods, including speaking, listening, reading and writing. I include music and series in my lessons, and I have special courses focusing on Israeli society, culture and music.
I teach in small groups, and I have really speacial students from different backgrounds, and there's a unique dynamique and bond in each group.
It's important to me to keep the prices affordable to everyone even though the market prices are much higher. 250£ for a 20 hours course means 12.5£ per hour! I provide discount for students and for those who need it, so please of you need a discount because of any situation do tell me and don't let money impede your Hebrew learning!
In the past, I have taught in many Hebrew schools, including Eteacher (Rosen Hebrew School), Ulpan Kibbutz and the acclaimed Ulpan Bayit in Tel Aviv.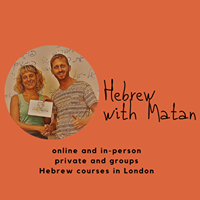 Learn IVRIT not only as language, but also as means to understand the culture, identity, music and politics.

Speak, read, write and understand IVRIT.

לדבר, לקרוא, לכתוב ולהבין עברית.
One of the greatest thing as a Hebrew teacher is to know my students... Somehow, really interesting and diverse people get to join my groups, so there is a very friendly and funny dynamic created in each of them...! So when you contact me to assess your level, also ask about the students in your destined group because this is really important, and will motivate you to learn and grow together!
Here are some of my students gathering (and 1 on 1s) I had in London, and below ae some students videos:
learn Hebrew on zoom (Jack)
Processing video...
Join a community of Hebrew learners and GROW to be a Hebrew SPEAKER
Processing video...
Feel part of a group with students from around the world: Learn Hebrew with Matan
Processing video...
Learn Hebrew is a challenge, but you learn to understand a culture
Processing video...
Coming Courses April 2023
Private Lesson Online שיעור פרטי אונליין
For people who benefit better from 1 on 1 lessons, I offer privates. It is definitely not as affordable as my groups (which is about 16£ per hour), but for some students it works better: either because you might need Hebrew for a professional reason (research, translation) or you simply want to have privates and you can afford it. If you're a student or need a discount for ehichever reason, I can provide that, of course.
Hebrew Beginners 1 - April 2023 IN PERSON central London (15 hours course Tuesday evening)
This is the total beginners course for people who have no background in Hebrew. We follow the units of hebrew from scratxh and we learn to speak, read and write - the very first step into your journey in Hebrew!
*price is for online groups of 5-7 students. for smaller groups price
will be slightly amended.
Starts: 18th April
Ends: 20th June
Time: Tuesday 6:30-8pm UK time

Hebrew ALEF/beginners 1 - follow recorded videos on your own pace - no previous knowledge required
Price: 15£ per video / 125£ for the course
For people who have no background in Hebrew who cannot commit to a weekly lesson and want to learn at their own pace, I provide the first 10 lessons course as recorded videos from my lovely group in 2021. This is following the units of Hebrew from Scratch - the best way to get familiar with the Alef bet and basic Hebrew!
I provide the videos, the material and homework and you send me your progress after each lesson until you finish the course. then, you can join Beginners 2 online!
Hebrew Beginners 2 - April 2023 IN PERSON central London (15 hours course Tuesday evening)
Following on the ALEF course, this is for those who finished the 7 units of Hebrew from Scratch and can speak, read and write basic Hebrew. We will learn more Hebrew basics such as vocabulary (family, house) and grammer (יש לי, קוראים לי...). This course is great fun, and will include texts, listening comprehensions and live simulations!
*price is for online groups of 5-7 students. for smaller groups price will be slightly amended.
Starts: 18th April
Ends: 20th June
Time: Tuesday 5-6:30pm UK time

Hebrew Beginners 3 - April 2023 ONLINE, Monday morning OR Wednesday evening
Following on the Beginners 2 course, this is for those who finished the 7 units of Hebrew from Scratch and can speak, read and write basic Hebrew, as well as basic Hebrew vocabulary (family, house) and grammer (יש לי, קוראים לי...) acquired in Beginners 2, this course will expend your vocabulary on themes such as going to the doctor, the market, the colthes shop etc'. This course is great fun, and will include texts, listening comprehensions and live simulations!
Starts: 17th April / 19th April
Ends: 19th June / 21st June
Time: Monday 8:30-10am

OR
Wednesday 7-8:30pm UK time
Hebrew Intermediate 1 - April 2023 (1.5 hour weekly course, 10 weeks, Monday evening)

This course is for those who have an understanding of the future tense, in all different structures (בניינים) including future, imperative, noun of action (שם פעולה) and more grammatical themes. We will start reading texts from the book Bein Ha-Shurot for the advanced level, and hold discussions on the themes learnt, as well as the more advanced grammatical themes necessary for higher level Hebrew in texts, poems and music.
Starts: 17th April
Ends: 19th June
Time: Monday 5-6:30pm UK time
Hebrew Higher intermediate Wednesday evening OR Friday morning
These are my advanced groups - some deddicated people who took their Hebrew to the fluent level!
Join Mary, Per, Ole, Nathan and Einar on Wednesday evenings OR Nikos, Uta, Peter and Moritz on Friday mornings.
This is a gimel level course, we use the excellent book עושים עניין in which we speak about themes such as Mizahi and Ashkenazy Jews colture and history, history of discrimination of ethnic groups in Israel, climate change and recycling, what affects our decisions in life - this course is personal and deep!
You need to have a thorough understanding of hebrew to join these groups, and in any case i will assess your speakinga nd reading before you join.
Starts: 19th April / 21st April
Ends: 21st June / 23rd June
Time: Wednesday 5:30-7pm
OR
Friday 8-9:30am UK time
מבוא לסכסוך הישראלי-פלסטיני: קורס מיוחד לרמות ביניים ומתקדמים (זמן טרם הוחלט)
איך הסכסוך התחיל? מי היה פה קודם - היהודים או הפלסטיניים? מהם הנרטיבים הקיימים מאז ועד היום? איך הציונות שינתה את פני הארץ? איך בריטניה והמעצמות היו מעורבות בהקמת מדינת ישראל? איך התחילו ההתנחלויות אחרי מלחמת ששת הימים ב-1967? איך נחתם הסכם אוסלו ומה ההבדל בין האזורים השונים בשטחים? איך האינתיפאדות שינו את המציאות?
בואו ללמוד על ההיסטוריה והנרטיבים של הסכסוך בקורס דינאמי ומעניין לרמות הביניים והמתקדמים!
*הקורס נפתח לפי דרישה
Conversational Hebrew for (almost) fluents
This is a fun 1 hour weekly lesson for the advanced! many of the students in this group are Hebrew teachers themselves, people who used to live in Israel or simply learnt it to fluency! We speak about politics and social issues, identities and culture, and even personal issues - this is a small and safe space for Hebrew speakers to share ideas, discuss issues and simply have fun in Hebrew!
➢ ONGOING course
➢ Days and times (UK time):
Thursday (ערב) 17:30-18:30
1. You send me your interest
Or contact me at your convenience
2. I get in touch with you to check your level
I will send you a text and will call you to assess you written and spoken Hebrew level
You join a WhatsApp group with the other TALMIDIM, receive the material and you're good to go!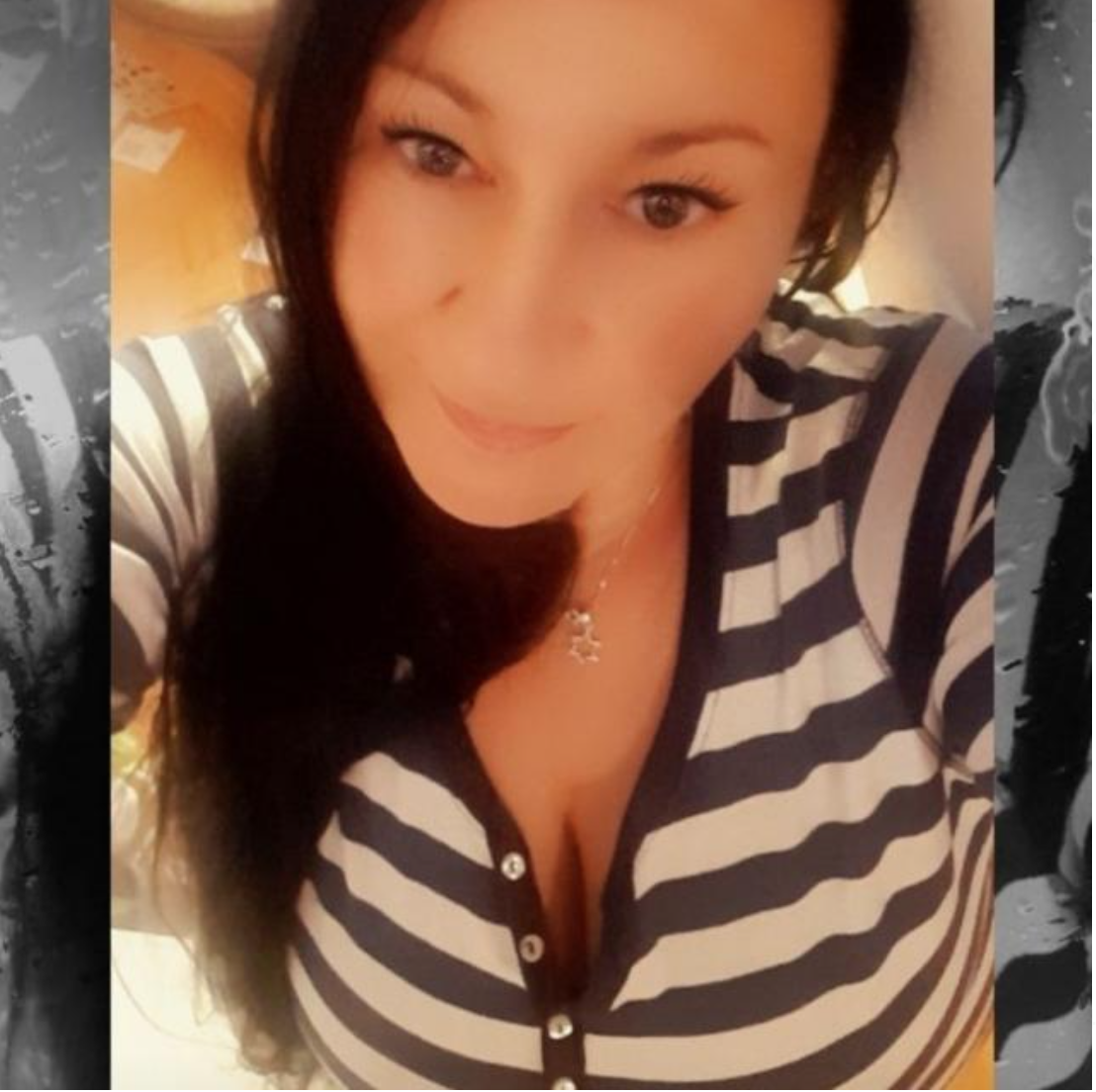 Nina Bubi
Beginners 2, January 2022
I'm very happy with my Hebrew lessons with Matan!He makes every lessons interesting and engaging. Great teacher who always inspires you and leaves you with positive feeling for the rest of the day!I recommend it and encourage you to try it😊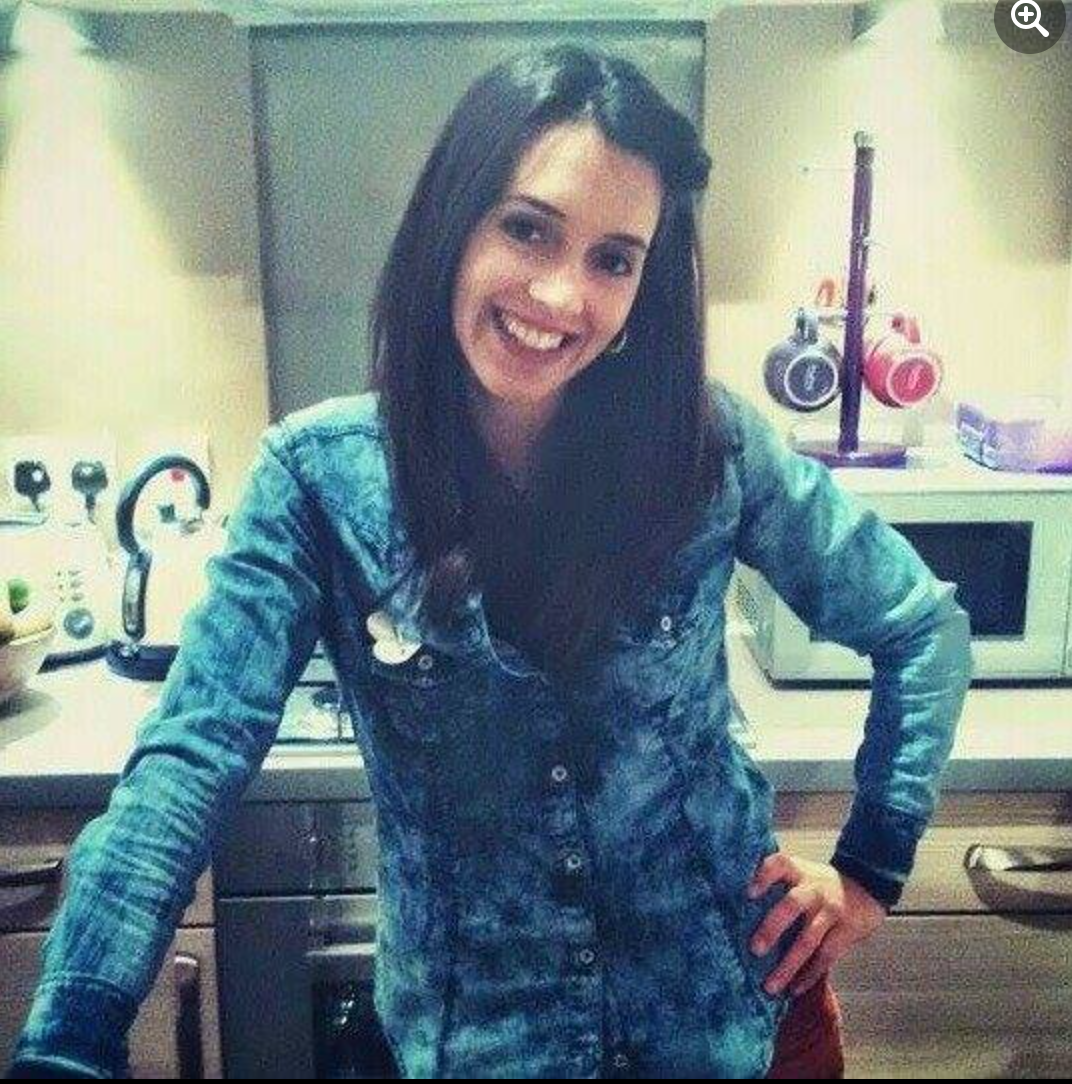 Veronica Llorente
Intermediate 2, October 2021
Really happy to have found Matan as a Hebrew teacher. I had tried Hebrew lessons before, but the online classes with Matan made the learning process more appealing to new learners. The classes are dynamic and cover all aspects of a language; grammar, new vocabulary, comprehensive reading and writing; all that surrounded by a great atmosphere. Truly recommended! ;)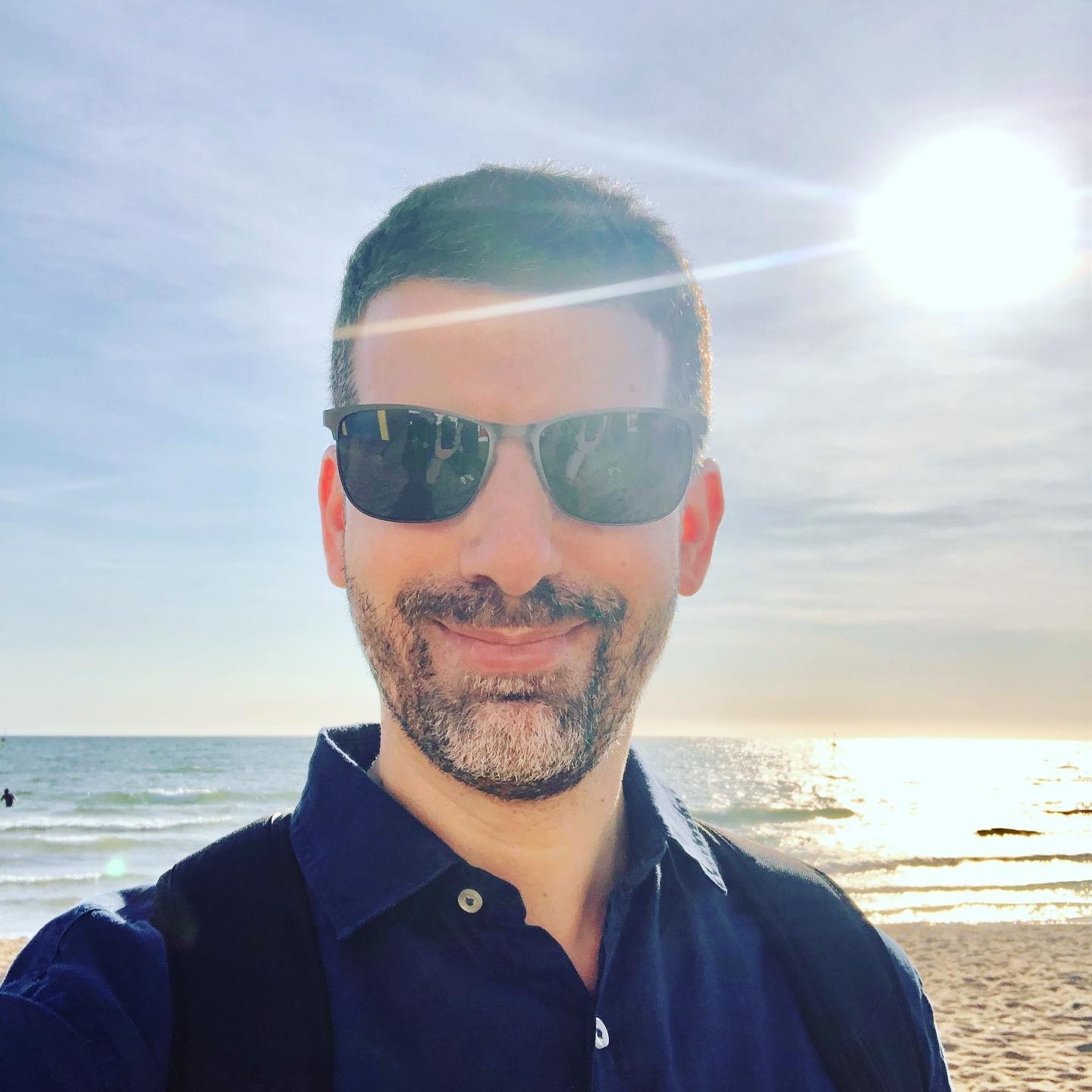 Jérôme Frankfurt
Private lessons, since May 2020
Matan is a very friendly and competent teacher. He provides clear and dynamic lessons, adapting to where you start from. I particularly like the way his lessons embed all the communication competencies (reading, writing, oral understanding and speaking). The Modern Hebrew he teaches is obviously the one is use in Israel today and not one from outdated books (languages evolve quickly don't they?). If you look for a teacher to learn from scratch or improve your Hebrew skills, I would warmly recommend Matan!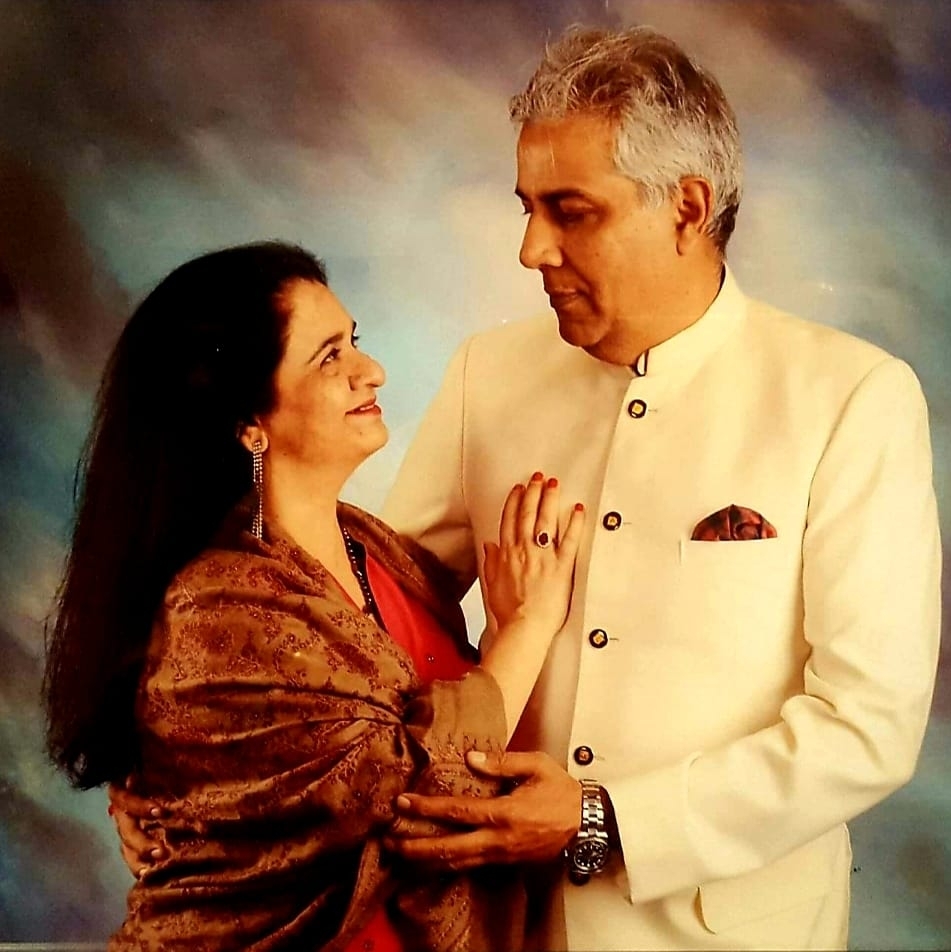 Rohini Bakshi
Beginners1 Intensive, August 2020
Matan is patient and makes sure all the students understand what he is covering before he moves on. He has a sense of humour and makes learning fun. However, the intensive courses are just that: 'intensive'. So be prepared for a brisk pace. I've learned a lot in a very short time - and credit goes to his teaching methods.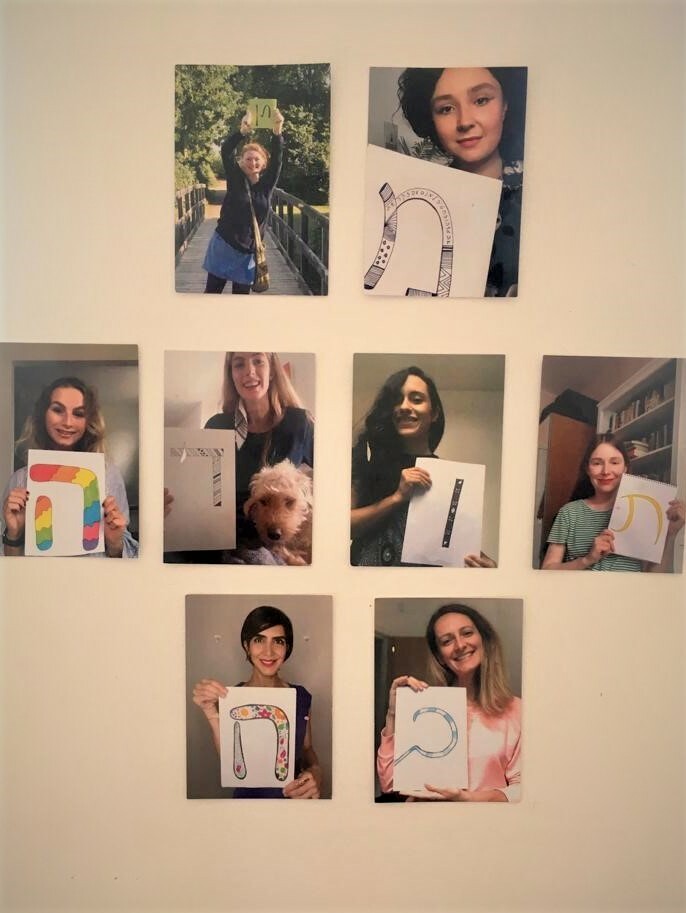 My students from Language Centre, SOAS University of London are the BEST הכי טובות!!They don't stop surprising me with מתנות! But, there's one letter (and student) missing - which letter is that??? This question is EASY!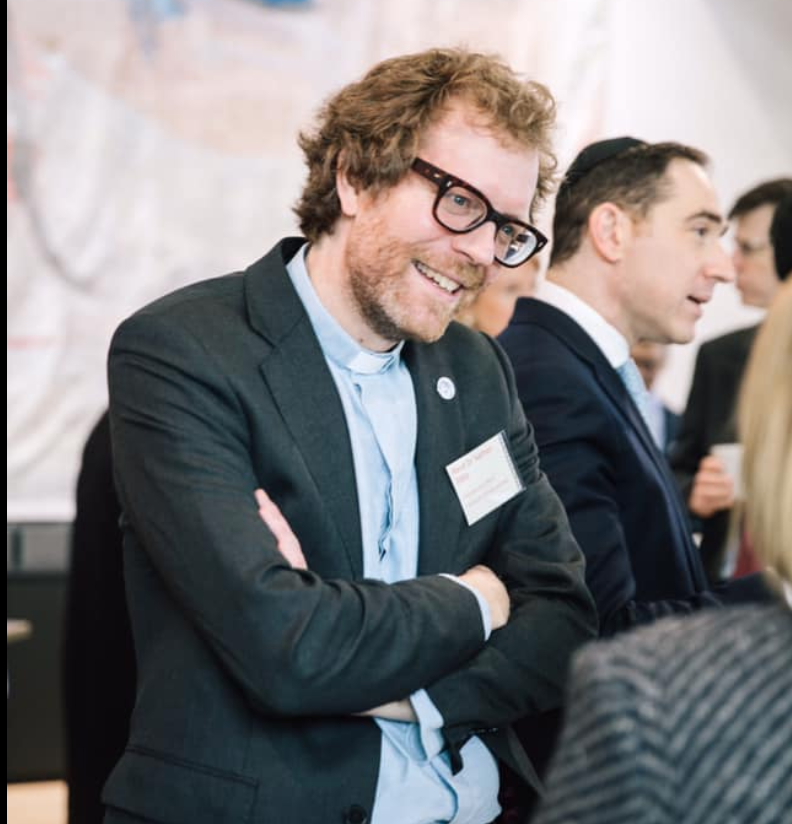 Nathan Eddy
Intermediate 3, January 2022
I've studied Hebrew with Matan for 7 months now and can't recommend him highly enough. Matan manages to make the lessons informative but, crucially, also fun -- drawing on music, Israeli culture, and the life experiences of other students. I have had other excellent Hebrew teachers over the past 5 years, and Matan is among the best. I teach Biblical Hebrew and recently earned a PhD in Hebrew Bible and am aware how hard it can be to make language learning socially interactive; Matan does this naturally.
Frequently asked questions
Questions about the specifics of the services provision, products, delivery, and similar issues.
No, all the material of the course, including a PDF of the book, class presentations andaudios will be provided to you by the teacher, following the payment for the course.
What is the teaching method?
The teaching method is following the book recommended by the Hebrew University,Hebrew from Scratch, integrated with some more updated materials which will beused during the class presentations and homework.

Yes, repetition is an essential part of learning a new language. You are not obligatedto do your homework, but it will improve your learning substantially if you do.Homework will be sent via the WhatsApp course group, which will also be used forsharing audio files and any additional material. If you do not use WhatApp, you canask to be sent the homework via e-mail.

What if I will be missing a lesson?
Please inform Matan in advance. The classes are online, on Zoom, and are recordedupon consensus of the other students, so that those who miss can review the lessonrecording.
We deliver anything, anywhere, anytime
The payment should be made via PayPal by
the following link
, or the PayPal associated with matanstr@yahoo.com.
If you prefer to pay by a bank transfer, please contact me below.
○ All refund and deferral applications must be made at least 7 days before the course start date initially booked.
○ Refund applications made 7 days or less before the course start date cannot be accepted.
○ No refunds are available for non-attendance.
○ How to claim a refund: You must notify the teacher Matan in writing/ by email, following your cancellation.
○ In the event that Matan is unable to run a course, or make suitable alternative arrangements under the Minimum Number of Students policy (4 students), you will be entitled to a full refund.